Stoyan has 18 years of experience in developing, interpreting, and enforcing building standards.  He has a master's degree in Electrical Engineering and possesses eight International Code Council certificates, including Accessibility Plans Examiner.
He has been a subject matter expert on code development and other rulemaking activities including the development and evaluation of exams. He was part of a Green Energy team that developed requirements for water conservation, as well as electric vehicle charging.
His private sector experience includes five years as a building inspector, plans examiner, internal control engineer, and a third-party consultant. He is leaving his private consulting practice to join the State Building Code Council as the new Managing Director.
Thumbnail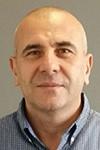 Stoyan.jpg